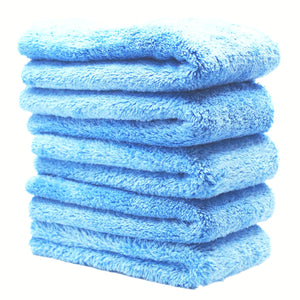 Plush Edgeless 500 GSM 5 Pack $9.95 Per Towel
16.736% Cheaper Per Towel!
The Plush Edgeless Towel is made for ultra-soft scratch-free buffing, drying, cleaning, and dusting. Fluffy piles of soft microfiber trap harmful dust and dirt particles to protect sensitive surfaces from swirls and scratches. The unique laser-cut edgeless design removes any hard surface from the towel and guarantees the gentlest touch from every square inch.
Absorb tons of water quickly and easily
Pick up dirt, grime, and debris without scratching
Get the perfect streak-free finish
Buff off sealants & waxes for lustrous shine
40 cm x 40 cm
Colour: Blue
Notice:  
Remember to wash the product before first use.