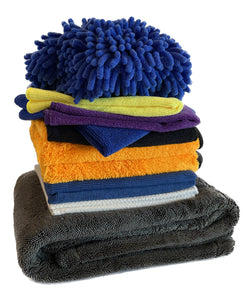 This Microfiber Kit Set features a selection of our high quality microfiber towels that we offer, in an affordable kit set at a fraction of the price if each item was purchased individually.
The set also includes a microfiber chenille wash mitt.
This kit gives you the ability to try all our main towel types in one go.
Includes the Following Items:
1 x Double Sided Twisted Loop Drying Towel 70cm x 90 cm. Single Unit Usually $35.95
2 x Waffle Weave Glass Towels. Single Units Usually $4.60 x 2 = $9.20
2 x Pearl Edgeless Towels. Single Units Usually $4.40 x 2 = $8.80
2 x Buffing Towel 800 GSM Orange & Grey Version 2.0.  Single Units Usually $6.90 x 2 = $13.80
4 x All Purpose Terry Weave Towel 300 GSM. Single Units Usually $2.65 x 4 = $10.60
1 x Deluxe Microfiber Chenille Wash Mitt. Single Unit Usually $14.99
Total Value of Single Units $93.34