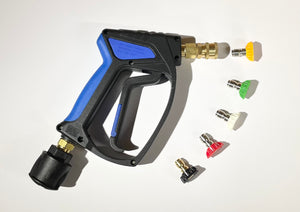 This High Pressure Spray Gun Will Take Your Pressure Washer to The Next Level in Cleaning Performance.
The Swivel at the lower end of the Spray Gun allows for excellent ergonomics while in use, keeping your hose from twists or binds while moving around your vehicle or whatever you are working on.
Featuring a hard-plastic chassis with brass and stainless-steel fittings and components.  These are a great accessory to your pressure washing machine and allow for close range high pressure spraying to remove dirt and contamination from any surface. They can also quick connect to a snow foam cannon with G1/4 Connector.
Max Pressure:  345Bar/5000PSI
Max Flow:  40L/pm : 10.5USGpm
Max Temperature:  150 C  : 300 F
Up to 3m Spray Distance
Easily Connects to our spray lance or foam cannon.
M22 Adapter Included To Connect to your Specific Brand of Pressure Washer Hose. 
1 Set of 030 Orifice Quick Connect Spray Nozzle's included with gun. Rated to suit most electric machines up to 2600 PSI.  (Petrol powered machines may require quick connect spray nozzles with a larger orifice).

Extra caution should be taken with use of the Red Spray Nozzle.
Once spray nozzle is connected to your spray gun or lance it is advised to test nozzle by pointing safely at the ground to make sure the nozzle is seated properly and you have selected the correct nozzle angle.
Pressure Washer Spray Guns Should Never Be Pointed At People or Animals
12 month non-commercial warranty