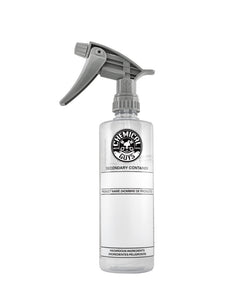 This durable 16 oz bottle holds your favorite detailing chemicals and products, and it comes equipped with the upgraded Chemical Resistant Professional Sprayer Head.

This upgraded sprayer has an ergonomic comfort grip and extra large trigger handle for comfortable usage during any long detailing job. Every pull from the Heavy Duty Sprayer pumps out 1.3 ml per stroke, over 40% more than stock sprayer heads. More product per spray means fewer pumps and less fatigue with your hands and wrists as you detail.
Viton seals resist wear and tear from even the toughest detailing chemicals, and helps prolong the lifespan of these heavy duty sprayer heads.
The Chemical Resistant Heavy Duty Bottle is made from chemical-resistant clear plastic for easy product identification and level checking. Never leave for a mobile detail with a half-full bottle again! These professional-grade bottles and sprayers stand up to heavy duty detailing use so you can get the job done quickly and efficiently.
Take on any detailing job with the confidence of a sprayer bottle that'll never quit: The Chemical Guys Chemical Resistant Heavy Duty Bottle & Sprayer
Qty:  1 Bottle