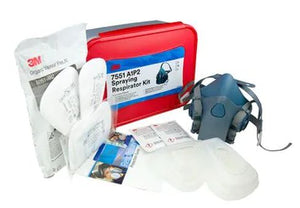 The respirator kit provides protection in a convenient and easy way. The kit includes the 3M™ Half Face Respirator 7500 Series with special Cool Flow™ valve and soft silicone material. These features make the respirator ideal for working in hot and humid conditions or during prolonged use.
Common Applications/Hazards: For protection against paint spraying, pesticide spraying, chemical handling, fibreglassing, printing, degreasing
Complies with AS/NZS 1716:2012
Note: Not to be used when spraying isocyanate based paints
To avoid moisture and contaminant exposure, store the respirator in the handy, sealable storage container
This is one of the most highest grade masks available by 3M.
Mask Size is Medium